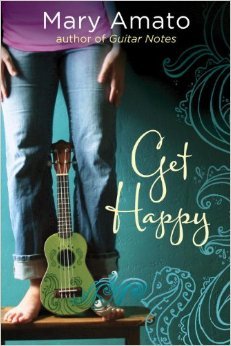 Buy the book at
Author's
Book summary:
In this poignant, realistic, contemporary YA by a state master list star, perfect for fans of Sarah Dessen and Gayle Forman, a young songwriter builds a substitute family with her friends in place of the broken family she grew up with.


A hip high school girl who loves music, writes songs, and is desperate for a ukelele, learns to her shock that her father did not abandon her years ago and has been trying to keep in touch. She begins to investigate him, only to discover that he has a new life with a new family, including the perfect stepdaughter, a girl who Minerva despises.
It's been a while since I
have read (and loved)
Guitar Notes
and in the meantime a lot has changed. I became a different reader and my reading preferences have changed as well. But good thing about all this is that I can change, but my love for realistic stories and characters never will. Luckily, Mary Amato really knows how do write them.
I don't know for you but when I was a kid I really wanted to learn how to play piano (It's still something I desire to know), so to say that I understood and connected with Minerva would be an understatement. Her love for ukelele was so pure that it's hard not to cheer for her. Not only her love for music, but also her views and coming of age which was realistically portrayed. Also her understanding of the family and what values it has.
Besides Minerva, who was out main character other characters in this book were amazing. Each of them was real and what's more it was so easy to see differences between them and how despite them they could work together in "Get Happy". Another great thing is the image of parents in this story. Usually in YA books they are MIA, but here we get parents that care and protect their children, and sometimes do what they think is right without taking in consideration everything. They make mistakes, but they are humans after all.
While you'll find some topics like single parents and how hard being one sometimes is, this book is hilarious! I loved how it seemed light and easy to read, but still deep and real. Perfect for younger readers if you ask me!
Rating: 5 stars
Until the next time,
*Note: Copy of this book was kindly provided by the publisher, Egmont USA via Edelweiss. Thank you!