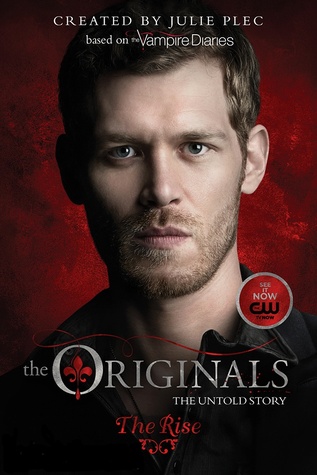 Buy the book:
Author's:
Expected publication date: January 27th 2015, HQN Books
My rating: 3 stars
Book summary:
"Family is power. The Original vampire family swore it to each other a thousand years ago. They pledged to remain together always and forever. But even when you're immortal, promises are hard to keep.

Arriving in New Orleans in 1722, Original vampire siblings Klaus, Elijah and Rebekah Mikaelson believe they've escaped their dangerous past. But the city is lawless, a haven for witches and werewolves unwilling to share territory. The siblings are at their mercy…especially after Klaus meets the beautiful and mysterious Vivianne. Her impending marriage is key to ending the war between the supernatural factions—and Klaus's attraction to her could destroy the uneasy alliance. As Elijah works toward securing a piece of the city for his family, and Rebekah fights her unexpected feelings for a French captain, will Klaus's volatile desires bring their world crashing down—and tear them apart for good?"
I don't usually read books that are based on popular TV shows, but when I saw that there will be a story about my favorite antihero, I decided to make an exception and read it. Because, seriously, it is Klaus Mikaelson!
What I liked?
It felt like I was watching new episode of TV show. I was surprised by how much writing reminded me of the show - I could picture everything in my head and I almost could hear their voices.
Background story. The Rise is great addition to the show and I believe that fans will enjoy it a lot, because it offers small flashback to the past of the most notorious vampires in New Orleans.
Fast, action-packed and fun. Once you start reading this, it goes really fast and before you know it, you'll read the last page.
Glimpse of humanity. It was interesting to see more personal side of the trio and, what is even rarely, Klause being in love.
What I didn't like?
Not recommended for people who don't watch the show. I have a feeling that you would be left with more questions than answers and that you will think that it is uncompleted. The Rise is the companion novel, great, fun and quick read that fans would enjoy, but I don't think other would appreciate it as much.
Cheesy and overly melodramatic in the end. It started good and there were all things I love about Klaus, Elijah and Rebekah, but somewhere along the way it took turn to worse and I ended more annoyed than happy. I was especially disappointed with Klaus.
Final judgement?
Great choice if you are suffering because there are no new episode of your favorite show at the moment. I believe that The Originals fans will appreciate this book.
Happy reading,
*ARC provided by publisher in exchange for an honest review. Thank you!*
If you think this review was helpful, please, consider liking it on Goodreads.