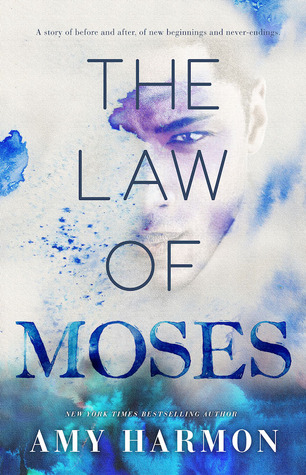 Buy the book:
Author's:
My rating: 5 stars
Book summary:
"If I tell you right up front, right in the beginning that I lost him, it will be easier for you to bear. You will know it's coming, and it will hurt. But you'll be able to prepare.

Someone found him in a laundry basket at the Quick Wash, wrapped in a towel, a few hours old and close to death. They called him Baby Moses when they shared his story on the ten o'clock news – the little baby left in a basket at a dingy Laundromat, born to a crack addict and expected to have all sorts of problems. I imagined the crack baby, Moses, having a giant crack that ran down his body, like he'd been broken at birth. I knew that wasn't what the term meant, but the image stuck in my mind. Maybe the fact that he was broken drew me to him from the start.

It all happened before I was born, and by the time I met Moses and my mom told me all about him, the story was old news and nobody wanted anything to do with him. People love babies, even sick babies. Even crack babies. But babies grow up to be kids, and kids grow up to be teenagers. Nobody wants a messed up teenager.

And Moses was messed up. Moses was a law unto himself. But he was also strange and exotic and beautiful. To be with him would change my life in ways I could never have imagined. Maybe I should have stayed away. Maybe I should have listened. My mother warned me. Even Moses warned me. But I didn't stay away.

And so begins a story of pain and promise, of heartache and healing, of life and death. A story of before and after, of new beginnings and never-endings. But most of all...a love story."
If you are fan of new adult novels, there is no way that you haven't heard about
Amy Harmon
. The most popular book she wrote is probably
Making Faces
, a story about group of friends, war and loss. I still haven't read that one, and truth to be told, I had a lot of doubts first time I noticed it on Goodreads. Back then, a lot of my friends read and raved about certain books, I got interested and picked up the book. In the end, I was left wondering is it me, them or the book - because I couldn't find any of those things they had loved so much. That is the main reason why I still haven't read
Making Faces
, but when I saw this beautiful cover for
The Law of Moses
and read synopsis, I was intrigued. Now, I can only say that I'm happy for reading it.
The Law of Moses Five Greats:
Emotional and beautiful story. This is one of those books you will read with your heart, soul, mind and body, that will leave you drained and full at the same time. You will try to read it slowly because you'll want to make it last just a little bit longer. Your heart will hurt, your body will tingle, your lips will curl into a lazy smile and open in a sigh. Maybe your eyes will roll few times, but nothing you won't be able to get over. You'll want to slap some of the characters and in the next moment drag your fingers over someone's skin and feel them shiver. You will feel so many things.
Moses and Georgia. If I ever wanted to scream "I ship them!" it would be while I read The Law of Moses. And I absolutely hate "shipping". Amy Harmon leaves you with no other choice than to get involved with the lives of her characters. In those few hours you become them - that's how powerful her writing is.
Colors and lines. I know that this doesn't make much sense, but you will know what I meant when you read the book.
Thought-provoking. Yes, there is drama and angst and even few cliches of the genre, but also The Law of Moses is a book that makes you think and question your beliefs. Amy Harmon does write more religious centered stores, but if you do not prefer topics like that, I assure, this is not one of those books that tries to convince you to become Catholic (or Jewish or Muslim). I do not like books with religious aspect and I adored this book. (On the other hand, Running Barefoot is a completely different matter.)
Unexpected twist. There is this... lets say thing to avoid spoilers, that I have not expected and I'm grateful that I haven't read any reviews or comments that could have made me enjoy reading The Law of Moses less.
Final judgement?
Beautiful and heartbreaking story that you will wish to read all over again, recommended even for those who are not fans of new adult.
If you think this review was helpful, please, consider liking it on Goodreads.
Happy reading,