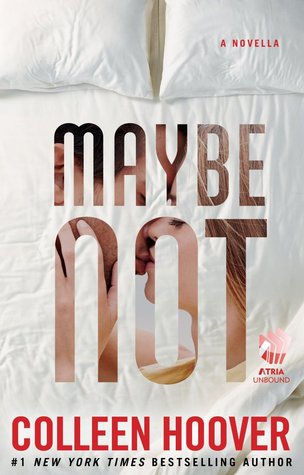 Buy the book:
Author's:
My rating: 5 stars
Book summary:
"When Warren has the opportunity to live with a female roommate, he instantly agrees. It could be an exciting change.

Or maybe not.

Especially when that roommate is the cold and seemingly calculating Bridgette. Tensions run high and tempers flare as the two can hardly stand to be in the same room together. But Warren has a theory about Bridgette: anyone who can hate with that much passion should also have the capability to love with that much passion. And he wants to be the one to test this theory.

Will Bridgette find it in herself to warm her heart to Warren and finally learn to love?

Maybe.

Maybe not."
Read my review for Maybe Someday here.
First I have to say that I am not usually fan of novellas - almost every single one I've read so far was only there to fill time between book one and book two, or to remind people to buy "original" book. They don't bring anything new or fairly important, I end up cursing myself for even picking them up. This did not happen with this release.
Maybe Not is a story about Warren and Bridgette, secondary characters from Maybe Someday. The odd couple. The crazy ones who made us laugh. I am so happy that Colleen Hoover decided to surprise us with their story no matter how short it is. I do wish there were more pages, but this was okay too. Better something than nothing, right?
"I don't want you to change Bridgette. I'm not in love with who you could be, or who you used to be, or who the world thinks you should be. I'm in love with you. Right now. Just like this."
All the reasons to read Maybe Not
That quote above. If you want more, just read it. I highlighted whole thing in the end.
Quick, but satisfying read. Unlike many others novellas, you do not feel as if anything is rushed. This is not continuation of the previous novel trough the perspective of other characters. Timeline is the same like in Maybe Someday, but focus of the story is on completely different events. There are couple of scenes you will recognize, but still it is like you are reading them for the first time.
Warren. Oh my God, Warren! Tanja can we squeeze him into your harem somehow? Do not worry, I will take care of him.
Hotness overload. But seriously! Colleen Hoover, I didn't know you had it in you. You should definitely write steamier scenes more often. I know that some of you (still) aren't comfortable with reading explicit scenes, so consider this as a warning - Maybe Not is most definitely 18+ read.
I walked on the clouds all day. Every once in a while we all need one of those "feel good", happy and fluffy reads.
In the end, other than trying to make you read this, I will share just one more quote with you. If this doesn't work out, than you have cold, cold hart.
"I press my lips to hers with such delicacy; I want her to feel everything she's ever deserved to feel at the hands of someone else. She deserves to feel beautiful. She deserves to feel important. She deserves to feel cared for. She deserves to feel respected. She deserves to feel like there's at least one other person in this world who accepts her for exactly who she is.




She deserves to know how I feel. because I feel all of those things. And maybe a little more."
Happy reading,