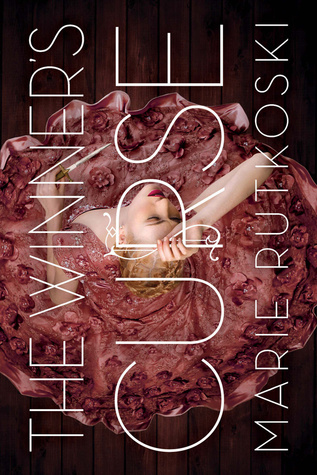 Buy the book at
Author's
Rating: 4 stars.
Book summary:
Winning what you want may cost you everything you love
As a general's daughter in a vast empire that revels in war and enslaves those it conquers, seventeen-year-old Kestrel has two choices: she can join the military or get married. But Kestrel has other intentions.
One day, she is startled to find a kindred spirit in a young slave up for auction. Arin's eyes seem to defy everything and everyone. Following her instinct, Kestrel buys him—with unexpected consequences. It's not long before she has to hide her growing love for Arin.
But he, too, has a secret, and Kestrel quickly learns that the price she paid for a fellow human is much higher than she ever could have imagined.
Set in a richly imagined new world, The Winner's Curse by Marie Rutkoski is a story of deadly games where everything is at stake, and the gamble is whether you will keep your head or lose your heart.
Tanja:
At last!
You've all heard and probably read this book by now but as you can see it took us some time to finally follow your steps. But here we are now. You know how they say, better late than never. Glass, would you like to start our discussion?
Glass:
I have to admit that I got scared after reading few negative reviews last year, but also because of all hype that followed
The Winner's Curse
, so I decided to leave it on my TBR pile for a little bit longer. I am so happy that I did exactly that - that ending is the cliffhanger of all cliffhangers and I'm not sure that I'd be able to wait patiently whole year to find out what happens next.
Tanja:
True that. But I think that I made a big mistake because I have read this one right after finishing
Heir of Fire
. I had troubles because I compared the two all the time. It's not that they are similar in the plot, but rather structure. Anyhow, I was actually surprised how much I enjoyed this one after a bit rocky start. I though that predictability concerning romance would kill it for me, but it actually developed nicely.
Glass:
I agree about that - some things were easy to predict, but still, you can pretty much do that with every book. I didn't have issues with romance because it wasn't pushed too hard - focus of the story is somewhere else and it wasn't rushed. I wouldn't buy it if author offered us insta-love instead of slow build up. One thing that I really liked is fictional world - I thought that
The Winner's Curse
is fantasy, but it is not. It could be described as alternative history maybe, what do you think?
Tanja:
Yes, that's what I loved the most about this book. The reality of it. Somehow I expected it to be much heavier on fantasy elements that I was actually really surprised. I could imagine something like this happening centuries ago, with kings and intrigues. Another thing I loved is the symbolic of the title. I knew about the idea of the winner's curse, but I didn't know its proper title. It was really nicely incorporated in the story.
Glass:
That is so true - even when you win, you lose something, and our characters have a lot to lose. Kestrel is such a strong character, she is smart and brave, not afraid to fight for what she wants. The way she changed from the beginning to the end was so believable, everything happens slowly and that is why her whole transformation was believable.
Tanja:
True that and I loved how slowly we get to meet Arin. I was really taken aback with his story and everything he went through. Somehow I could understand every move he made, just because I would probably do the same. It's hard to leave past behind even though there is better future for him somewhere. But this is what I look forward seeing in the sequel. I wonder will both of them learn from their mistakes.
Glass:
I actually started reading it already, I just couldn't wait after the way everything ended. Happy ending is something that seems unlikely, at least based on everything so far. They got them selves in such a mess and I don't see an easy way out. What do you think?
Tanja:
Honestly, I hope that we won't get HEA here. I know am I masochist, but I would love this to turn into more real ending. I mean it took us so long to abolish slavery so hopefully it won't be that easy in the book. It's not easy. But let's wait and see. I need to catch up with you.
We had a great pleasure to read this book together with out friend Emma @Never Judge a Book by its Cover. You'll find her review for this book on her blog.
Until the next time,