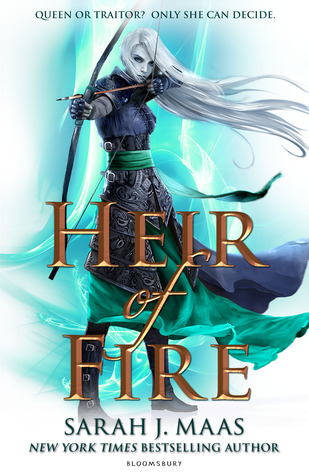 Buy the book at
Author's
Book summary:
Consumed by guilt and rage, Celaena can't bring herself to spill blood for the King of Adarlan. She must fight back...


The Immortal Queen will help her destroy the king - for a price. But as Celaena battles with her darkest memories and her heart breaks for a love that could never last, can she fulfil the bargain and head the almighty court of Terrasen? And who will stand with her?
You know those series that get better with each book you read and after each one you feel like there is no way to top it. Well
Throne of Glass
is that too me. After reading the first book I knew that it'd be on my fave shelf, but I had no idea that my feelings for it will grow and grow after each book. After reading
Heir of Fire
, they've reached that point where I cannot find any proper words for it.
I shall try though. Firstly I truly hope you've meet Celaena, either through the previous three books, or short stories which accompany this series. If you haven't, well you are at such disadvantage. She is someone you'd love to be, or at least to have by your side. She is fierce, strong and witty, but also very loyal and self-doubting which makes her real. Beside her, this series offers you a great spectra of characters which you'll love reading about and somehow connect with each of them. I won't even start about romance, which even though not being focus in this book still feels so strong. For me the relationships here weren't in just that friendship/romance boat, but they are so strong and everlasting.
Besides characters and emotions, there is world-building which in this book divided into three settings, still offers a picture and connections in this world. With addition of Manon who gives a new dimension into all this and by that spreading this story even further. For me by adding Manon and Rowan into this mix it didn't just help us to see this world better, but it actually helped for character development. But still not letting them to take over the story as Dorian and Chaol who are still base of this story. Honestly, it's all I could ever ask for.
Another thing which improved here was the writing, which seems better and somehow sharper. Now, we can just wait for the
Queen of Shadows
which will rock even more if you ask me.
Rating: 5 stars.
Until the next time,