You know the story. This is a meme created by Breaking the Spine and every week we pick books we're waiting for. Here are our picks for this week.
Glass' pick
In this dangerously sexy novel from the New York Times bestselling author of Find You in the Dark, a straight-laced college student meets a handsome but enigmatic stranger who lures her into an underground club scene, where she finds it difficult to resist temptation

Aubrey Duncan understands loss. She knows what rock bottom looks like, and she is determined to crawl back up to the top after the sudden death of her younger sister. She blames herself for her part in the tragedy, convinced that she could have done something, anything, to help her.

In her effort to gain redemption, Aubrey starts fresh at Longwood University and facilitates an addiction support group, hoping she can support someone else in the way she failed her sister. But what she doesn't count on is an all-consuming fascination with group member Maxx Demelo, a gorgeous, blond, blue-eyed enigma who hides dark secrets behind a carefully constructed mask. He only reveals what he wants others to see. But Aubrey glimpses another Maxx hidden below the surface—a Maxx who is drowning in his own personal hell.

As Aubrey and Maxx develop an attraction too intense to ignore, he pulls her into the dark underbelly of the city club scene, where she is torn by her desire to save him and an inexplicable urge to join him in his downward spiral. Worst of all, she is beginning to love everything she should run away from—a man who threatens to ignite in her a fire that could burn her alive...
Expected publication: August 5th, 2014
Tanja's pick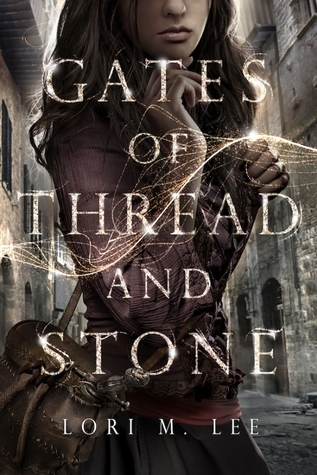 In the Labyrinth, we had a saying: keep silent, keep still, keep safe.


In a city of walls and secrets, where only one man is supposed to possess magic, seventeen-year-old Kai struggles to keep hidden her own secret—she can manipulate the threads of time. When Kai was eight, she was found by Reev on the riverbank, and her "brother" has taken care of her ever since. Kai doesn't know where her ability comes from—or where shecame from. All that matters is that she and Reev stay together, and maybe one day move out of the freight container they call home, away from the metal walls of the Labyrinth. Kai's only friend is Avan, the shopkeeper's son with the scandalous reputation that both frightens and intrigues her.

Then Reev disappears. When keeping silent and safe means losing him forever, Kai vows to do whatever it takes to find him. She will leave the only home she's ever known and risk getting caught up in a revolution centuries in the making. But to save Reev, Kai must unravel the threads of her past and face shocking truths about her brother, her friendship with Avan, and her unique power.
Expected publication: August 5th, 2014
We'd love to see your picks so feel free to link them up.
Until the next time,