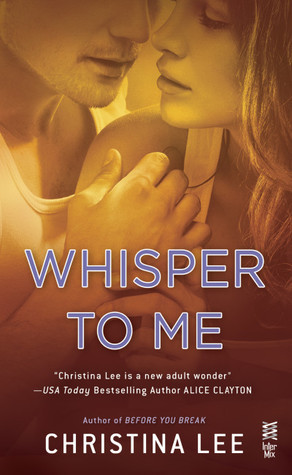 Buy the book:
Author's:
Publication date: May 20th, 2014
My rating: 4 stars
Book summary:
"At college, Rachel has a reputation for being a sarcastic flirt with a thing for star athletes. No one at school knows that she'd had her heart ripped to shreds by her high school sweetheart, who'd driven them both off the side of the road on a borrowed motorcycle, and then abandoned her. No one knows the real Rachel Mattson—except one person…

Ever since he helped nurse his sister's feisty best friend back to health, pierced bass player Kai Nakos has been head over heels in love. But the supposed bad boy can't risk letting Rachel know the truth—especially now that the two of them are back in their hometown for the summer, together for the first time since the months following that fateful night. Never mind that Rachel's ex is back, groveling for her forgiveness.

Shaken by her ex's return, Rachel finds herself turning to the one guy she knows she can trust. Kai is willing to hide his feelings for her, just to have Rachel touch him again. After all, this is only a temporary fling. Until it becomes something more. But maybe it had been more all along."
My first Christina Lee novel was a such sweet (and hot) experience.
Yes, hot. I warn you - this is a "full blooded" new adult romance which means no readers under the age of 18. Other than that,
Whisper To Me
is a part of the series, it is third book in
Between Breaths
but it can be read as standalone, you won't miss anything if you haven't read previous stories.
Why I swooned?
Kai Nakos. Tanja and I are always swooning over the perfect book boyfriends and this boy is so one of them. He's a perfect mix of bad and good boy who fights for the girl he loves.
Friends to lovers/best friend's brother storyline. I love this kind of stories. They have a dash star-crossed lovers, but with the happy ending. No insta-love, no fainting and lusting at the first sight. You have two people who know each other well, but still find out about things that surprise them.
Epic make out scenes. Oh, boy... Christina Lee is very "verbal" when it comes to those.
Few things that might bother you
Typical new adult. If you are not a fan of this genre, it's probably the best to skip it or read it only if you are in mood for it, because Whisper To me has all cliches.
Writing. Too repetitive at times and charters tend to think in circles. More telling than showing. Focused on romance and main characters.
Final verdict?
Sweet and predictable love story you'll enjoy reading when you feel craving for few hours of mindless fun. Or when your boyfriend/husband drives you crazy and mad and you need fictional boyfriends that will bring back your faith in real-life men.
Happy reading,
***Copy of the book provided by publisher, InterMix/Penguin, via NetGalley in exchange for an honest review.***