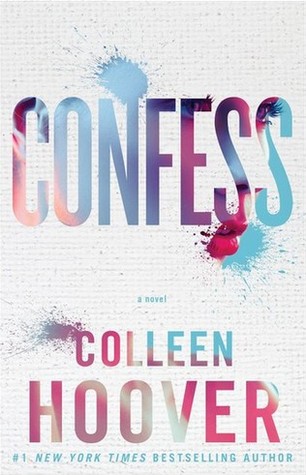 My rating: 3 stars
Book summary:
"Auburn Reed has her entire life mapped out. Her goals are in sight and there's no room for mistakes. But when she walks into a Dallas art studio in search of a job, she doesn't expect to find a deep attraction to the enigmatic artist who works there, Owen Gentry.

For once, Auburn takes a risk and puts her heart in control, only to discover Owen is keeping major secrets from coming out. The magnitude of his past threatens to destroy everything important to Auburn, and the only way to get her life back on track is to cut Owen out of it.

The last thing Owen wants is to lose Auburn, but he can't seem to convince her that truth is sometimes as subjective as art. All he would have to do to save their relationship is confess. But in this case, the confession could be much more destructive than the actual sin…"
(There are few spoilers in this review.)
So... That Colleen Hoover... She knows how to sell a story, doesn't she? I've been waiting for so long to read Confess, my little black heart hated deeply everyone who got ARC and I was so excited when I saw that there are actual pictures in it. And then few of my trusted Goodreads friends had a lot to say -
a lot
meaning
not positive
.
(I should have know what would happen as soon as I agreed to read this book with Vishous. Have you noticed how we end up not liking CoHo books that we read together, darling?)
All the things I did not like:
- Hipster characters.
Oh, Colleen Hoover just loves those - artistic, misunderstood, emotional, heartbroken, preppy, sensitive, with a lot to say and, let's not forget, great hair. Owen is epitome of all previously mentioned. Some might argue how his character is different from other CoHo boys, but he is not. Only difference is the type of art he chooses. Everything else - same old, same old. Auburn is overly naive despite the fact that
she got pregnant when she was fifteen and that she has a child, that she had to give up on her dreams and follow her evil "mother-in-law" across the country so she should be close to the kid.
- Instant love and all "we were meant to be together" talk .
Okay, this is pretty much something that you have in
every
C. Hoover book so far. I think I was more annoyed by predictability of the storyline than the insta-love scenario itself.
- I suffer, you suffer, we all suffer...
Everyone got to have a sob story. Even a sob story, has a sob story. I'm talking about that part in the end where she explains how
Adam and Owen are connected
.
- Too slow, too fast.
At first, I was bothered by how little happens and later everything happens at once. Ending was to rushed I I really didn't like whole evil brother trope. Do we seriously need to go there every time? I didn't buy that part of the story, plus additional connections between characters were a bit over the top.
DID I LIKE ANYTHING?
No one can say that Colleen Hoover doesn't know how to write an emotional story. Her writing pulls you from the very start and the way she describes things - just wow. I loved whole part with confessions and paintings, how she connected them. Also, giving shout out to artists out there is slowly becoming one of her signature moves and it's something I admire.
Confess
is enjoyable and quick read that all fans of this author will appreciate. Maybe I would have liked it more if I didn't have tons of work related things to finish, but I am still happy that I gave it a go.
Until the next time,