Welcome to #CoverLust - where we talk about all those books we picked up because of the beautiful covers.
When I found out about new book by Karina Halle, I got excited. When I saw that pretty cover, I got really excited. When I read book description, I got super excited.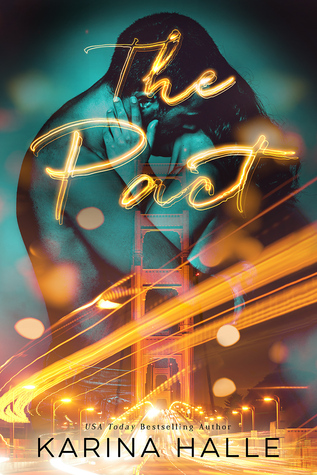 Book summary:
"

It all started with a pinky swear…
Linden McGregor is tall, rugged, and gunslinger handsome; a helicopter pilot with a Scottish brogue and charm to spare. He's also one of Stephanie Robson's best friends and has fit into that box for as long as she's known him.




But some relationships can't be boxed, can't be classified, can't be tamed.




Back in their mid-twenties and tired of the competitive hit-or-miss dating scene of San Francisco, Steph and Linden made a pact to marry each other if neither one of them are in a serious relationship by the time they hit thirty.


It sounds like fun and games but as the years to thirty tick past and lovers come and go out of their lives, the pact becomes larger than life.
Sex is inevitable. Friendships are tested. Hearts are on the line.


The pact is about to change everything."
I can't say that I hated it - it's just that there are parts that I liked and those that made me want to pull my hair out and scream.
What I liked?
Everything about that big, scary 30th birthday. I could totally relate and everything is so damn true. Society thinks that you are not young, but you're not old, too. You should act mature, pay bills, get married, have kids, stop having fun... And you still feel like a teenager sometimes. You just don't live with your parents, you can have sex whenever you want and you don't have to clean your apartment if you don't feel like it. But you still have to pay your bills.
Friends to lovers and whole pact thing was the main thing that appealed to me. Story did start good, I was waiting for two of them to finally get together, it was funny, but... it turned into overly melodramatic, angsty, trashy, Spanish soap opera kind of story.
Despite all things that I didn't like, I still think it is okay read. Nothing spectacular, but a fun quick read.