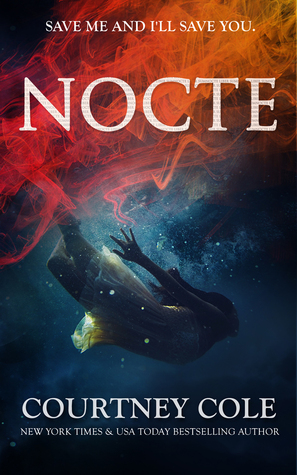 By the book:
Author's:
My rating: 3 stars
Book summary:
"Save me and I'll save you...

My name is Calla Price. I'm eighteen years old, and I'm one half of a whole.
My other half-- my twin brother, my Finn-- is crazy.

I love him. More than life, more than anything. And even though I'm terrified he'll suck me down with him, no one can save him but me.

I'm doing all I can to stay afloat in a sea of insanity, but I'm drowning more and more each day. So I reach out for a lifeline.

He's my savior and my anti-Christ. His arms are where I feel safe, where I'm afraid, where I belong, where I'm lost. He will heal me, break me, love me and hate me.

He has the power to destroy me.

Maybe that's ok. Because I can't seem to save Finn and love Dare without everyone getting hurt.

Why? Because of a secret.

A secret I'm so busy trying to figure out, that I never see it coming.
One of the books I have been anxiously waiting to read this November was new Courtney Cole novel, Nocte. After so many mysterious teasers and no actual synopsis until the very end, I was so curious to see what it will be about. Am I happy that I read it? Absolutely! But was it what I expected? Sadly, no.


It was unexpectedly expected.
Maybe the problem is me and not the book. This year I've read several novels with the same general idea but different approach. I won't talk about what Nocte is about, because everything could be possible spoiler and trust me, you do not want even a hint of the spoiler if you wish to enjoy reading this book. I know - I was my own damn spoiler. I guessed what is the big secret and what could have happened. Funny thing - when you read enough stories that should leave you with your mouth hanging open and buzzing in your ears (maybe even a little bit of terror and repulsion), you figure out pattern of those stories. That shocking moment is never really a surprise for you.


Bad writing.
I was talking with my friend about this book and she asked me to explain what was the biggest no for me. It wasn't the fact that I new what would happen - actually, I really enjoyed reading it despite that, I was curious to see how will everything unravel. Thing that annoyed me the most was writing. Cliche and repetitive, making it impossible to get into the fictional world and forget everything else.


I'm wondering...
...what will other two books be about, since Nocte is the first book of the trilogy. I will probably read them because of, as I already said, I did enjoy reading Nocte and I'm wondering what is a deal with Dare.
Should you read it? Definitely yes if you enjoy suspenseful and angsty new adult stories.

Happy reading,