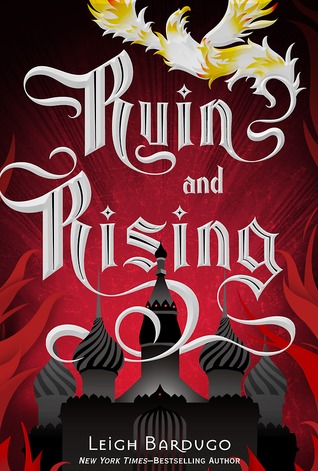 Buy the book at
Author's
Our rating:
Glass: 4 stars & Tanja: 5 stars
Book summary:
The capital has fallen.
The Darkling rules Ravka from his shadow throne.
Now the nation's fate rests with a broken Sun Summoner, a disgraced tracker, and the shattered remnants of a once-great magical army.
Deep in an ancient network of tunnels and caverns, a weakened Alina must submit to the dubious protection of the Apparat and the zealots who worship her as a Saint. Yet her plans lie elsewhere, with the hunt for the elusive firebird and the hope that an outlaw prince still survives.
Alina will have to forge new alliances and put aside old rivalries as she and Mal race to find the last of Morozova's amplifiers. But as she begins to unravel the Darkling's secrets, she reveals a past that will forever alter her understanding of the bond they share and the power she wields. The firebird is the one thing that stands between Ravka and destruction—and claiming it could cost Alina the very future she's fighting for.
You know how they say - all good things come to an end. Well sadly with this book two amazing things came to an end. First is this series, which blew us away and which we enjoyed a lot and second is our read-a-long with amazing Emma. But we're sure that there will be many more read-a-longs.
As with the previous two books all three of us had a little brainstorm where we came up with the questions for our review which will be spoiler free. In the meantime you can go and check out Emma's review at
Never Judge a Book by its Cover
and if you wish you can check our reviews for
Shadow and Bone
or/and
Siege and Storm
. Now let's discuss
Ruin and Rising
.
What is your favorite scene in this series?
Glass:
Definitely that last scene with Darkling and Alina. If you've been following our reviews of The Grisha Trilogy, you may have noticed that I am quite fond of villain. (I blame Leigh Bardugo for that!) Usually, the final show down between good and bad guys is a little bit more melodramatic, black an white, but here you have no such thing. Oh, the feels...
Tanja:
This should be easy one. It's for sure the bare ending of this book and this series. It has one of my favorite quotes and I actually reread that last page so many times (because it was so good and because my eyes were full of tears so it was blurry a bit) and I know it by heart. I can post you the whole quote as it'd be a major spoiler but one part goes like this:
"They had an ordinary life, full of ordinary things-if love can ever be called that."
This book also focuses on secondary characters. Which one was your favorite?
Tanja:
Well, I really liked David throughout the whole series and I also like how Zoe changed here. I mean she was still the same, but different. Somehow she grew on me. But without any doubt my favorite secondary character in this whole series is Sturmhond.
Glass:
Yes, Surmhond was great charater, but I believe that I will pick a girl this time - Genya. She went trough such a transformation since the first time we read about her.
If Leigh wrote another chapter in alternative POV, who would you like to see?
Glass:
Do I even have to say it? Darkling, of course.
Tanja:
Darkling, that's for sure. You get some pieces of it here and there, but I'd love too see how he thinks of his past and how he sees his mission and everything he's doing. I'd really like to see his emotions, especially in the scene on the mountain top.
As this story progressed, how did you feel about the development of the "mythology" throughout the novel?
Tanja:
I know that girls had some issues with this, but I really liked it. I loved how Leigh used Grisha and this whole concept to give her look at mythology or better said religion. Somehow it really all made sense to me and I loved it how Leigh gave some her way of explaining things.
Glass:
This is my last favorite part of the storyline, I have a lot of mixed feelings. I did like some parts while the others were a big issue for me. I am not a fan of religious topics and The Grisha is based on religious believes. True, modified, but still religious. I know that all of that goes with whole middle ages atmosphere and that for such a world all of that is logical. If you don't think too much about it or focus on different aspects of the story, it would probably be okay. If you are like me and you just can't let go of that... Well, we have a same problem.
What Grisha would you be? And why?
Glass:
Oh
,
The Order of Summoners, Etherealki - I always was fascinated by concept of controlling the elements.
Tanja:
Honestly, I wish I could say that I'm a brave one and that I'd for sure go and kick some asses here, but frankly I don't have brave bone in my body, nor do I have guts to be a Corporalki soldier. But I'm good with my brains so I'd hopefully be good as a Fabrikator and Alkemi would probably be happy to have me.
What are your thoughts about the ending of this book?
**Image was taken from
Tanja:
It was a perfection! I really, but really couldn't believe
end like this. Don't get me wrong, the ending was perfect but out of all ideas and plans I had in my head about the ending this one didn't occur to me. But it's the best ending we could get.
Glass:
Again, I have mixed feelings. Honestly, I didn't expect some things to happen like they did and that was great - unpredictable and keeps you on your toes until the very end. I will have to use spoilers now, so *spoiler alert*! I did not find that scene with Mal believable at all. Seriously??? After that melodramatic scene comes
that
?! Um...No! It might be okay if author tried to explain what happened better, but, unfortunately, she didn't. And that is one thing that is constant trough the whole series - every time you come to this big, messy part and expect something epic to happen - it doesn't. Magic vaguely saves the day. The end.
Which book is your favorite in this series?
Glass:
Shadow and Bone
- it was the most consistent story in The Grisha Trilogy.
Tanja:
It's really hard to decide. I'm torn between
Shadow and Bone
and
Ruin and Rising
. I love both, but I guess that if I really have to pick I'd find one small reason to go with
Shadow and Bone
.
Until the next time,