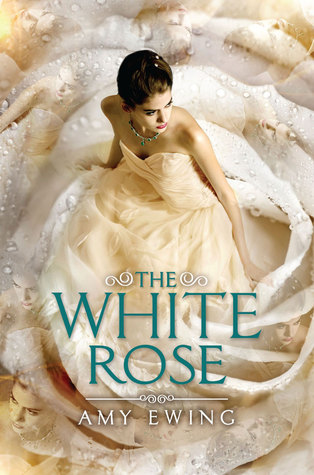 Buy the book at
Amazon / Barnes & Noble / The Book Depository
Author's
Website / Facebook / Twitter
Book summary:
Violet is on the run. After the Duchess of the Lake catches Violet with Ash, the hired companion at the Palace of the Lake, Violet has no choice but to escape the Jewel or face certain death. So along with Ash and her best friend, Raven, Violet runs away from her unbearable life of servitude.
But no one said leaving the Jewel would be easy. As they make their way through the circles of the Lone City, Regimentals track their every move, and the trio barely manages to make it out unscathed and into the safe haven they were promised—a mysterious house in the Farm.
But there's a rebellion brewing, and Violet has found herself in the middle of it. Alongside a new ally, Violet discovers her Auguries are much more powerful than she ever imagined. But is she strong enough to rise up against the Jewel and everything she has ever known?
The White Rose is a raw, captivating sequel to The Jewel that fans won't be able to put down until the final shocking moments.
It's been a while since my girl
Emma
and I did a read-a-long so when we figured out that we both had this book, it was easily decided. While we both enjoyed some parts of this book, I'm quite sure that Emma loved it more than me. It wasn't a bad sequel there were just some things that bothered me here. But more about that in our little discussion (if you're new to our read-a-long, the idea is that we come up with questions and then both of us answer them, thus forming a review).
The feelings you expressed after finishing this book?
Honestly, mine were torn. While on the one hand, I really enjoyed how this world building developed and some secondary characters really surprised me, somehow I couldn't enjoy this book fully because of Violet. She is a cliche character and at that very predictable which made some part of this story predictable too.
What part of the world-building did you enjoy the most?
For sure the whole idea about Auguries. It's such an interesting concept and while not new, it was a bit different here. As soon as we left The Jewel and got to the island I really liked how it expanded and the whole background of it.
Speaking of it, which Auguries would you want to be able to control?
Third one for sure. The first two are about the appearance and while I don't say it is not important still the last one controls what truly matters.
Your thoughts on Violet's character?
Here is where it gets tricky, as she is the main issue for me here. There is so much about here that was cliche and that bothered me a lot. It influenced the story as well and therefore I couldn't enjoy it fully. It's always hard when you cannot connect with the main character.
How did you feel about Violet and Ash?
It started off on a wrong foot in the first one. I know that many complained about it being insta love which it was back then. I'm happy to say that it progressed nicely here. It's still not something that I could say it OTP, but maybe it will get there.
What's your favorite secondary character?
RAVEN! No words needed!
Which one did you like more: The Jewel or The White Rose?
Honestly, it's hard to decided. While you'll notice that I gave The Jewel 4 stars it doesn't mean that it was better. I like both, but wasn't blown away by either.
Rating: 3 stars.
Until the next time,
*NOTE: Copy of this book was provided by the publisher. Thank you!