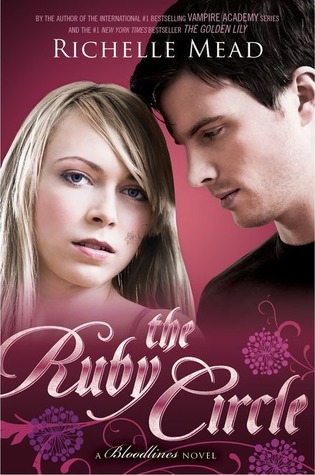 Buy the book at
Amazon / Barnes & Noble / The Book Depository
Author's
Website / Facebook / Twitter
Rating: 4 stars.
Book summary:
Sydney Sage is an Alchemist, one of a group of humans who dabble in magic and serve to bridge the worlds of humans and vampires. They protect vampire secrets—and human lives.


After their secret romance is exposed, Sydney and Adrian find themselves facing the wrath of both the Alchemists and the Moroi in this electrifying conclusion to Richelle Mead's New York Times bestselling Bloodlines series. When the life of someone they both love is put on the line, Sydney risks everything to hunt down a deadly former nemesis. Meanwhile, Adrian becomes enmeshed in a puzzle that could hold the key to a shocking secret about spirit magic, a secret that could shake the entire Moroi world.
Glass:
We have been scared of this day. Last Bloodlines novel. What will we do with our lives now?
Tanja:
Yeah, I wonder the same. It's just damn bittersweet. We've been in this world for so long and it's nice to see it reaching this point but then I'll miss it. Still let's keep it where it is and let it go now.
Glass:
That is something I wholeheartedly agree with -
Vampire Academy
and
Bloodlines
fictional world should end here. We are a little bit biased when it comes to these books - our friendship actually started because of our shared love for Rose, Dimitri and Adrian. (We even named our little nephew Adrian.) That doesn't mean that we can't recognize bad sides of this story. Like how it started really slow and ending was rushed.
Tanja:
Exactly, especially after all that crescendo we went through at the end of
Silver Shadows
. For me it felt like stepping into anther story altogether at the start. I needed some getting used to the pace and plot line. (Even though, as always Mead didn't fail to repeat things, which still drives me crazy. I see point of it, but honestly it's not like someone will read this before any other book in both series and wouldn't know about dhampirs and moroi and all that).
Glass:
But she actually toned it down in final book, I was more annoyed by it in previous one.
What did you think about Sydney and Adrian? I know that you prefer Dimitri, but Adrian was always my favorite. He truly grow up in The Ruby Circle.
Tanja:
Oh I adore him too. I mean I always did, but it bothered me how immature he was in the previous books. I did like his boy charm and all, but now I think I fully grew to love him. I like how more serious and adult he became. Which is amazing in this series, as you really saw him change. Both him and Sydney, but I think it was more present in his character.
Glass:
Sydney was kind of consistent trough whole series - she is responsible, too mature for her age, ambitious, confident, smart and strong. That is why I loved her, she is not the most usual female character you can find in this type of books.
But the way everything ended and that epilogue! I just loved epilogue!
Tanja:
That thing was like cherry on top! I was kind of worried how all this will end, somehow the whole book was so rushed at the end that I was scared for the epilogue but then Mead did was I will always be grateful for. She combined the two and closed this world. Like I always say, we might have left this world, but parts of our hearts will still remain there. As it should be.
As always it was a pleasure to share our joint review with you and we hope that you'll enjoy it. Stay tuned as there will be more to come.
Until the next time,