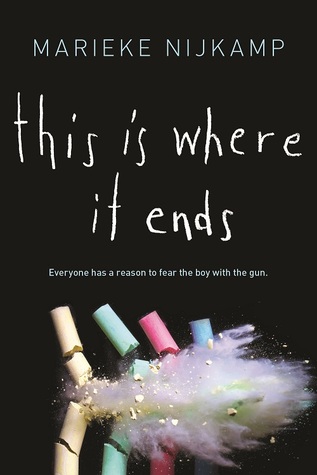 Buy the book at
Author's
Book summary:
10:00 a.m.

The principal of Opportunity, Alabama's high school finishes her speech, welcoming the entire student body to a new semester and encouraging them to excel and achieve.
10:02 a.m.The students get up to leave the auditorium for their next class.
10:03The auditorium doors won't open.
10:05Someone starts shooting.
Told over the span of 54 harrowing minutes from four different perspectives, terror reigns as one student's calculated revenge turns into the ultimate game of survival.
To all of us who always complain that there really is no diversity in YA books, well I present you
This is Where it Ends
! This book contains all diversity you may ask for (different races and sexual orientations) and with that deliver a really strong story, real and heartbreaking. Basically, everything I could ask from it.
It starts with four narrators and four different POVs. At the beginning it's a bit hard to connect all the dots and understand what's the connecting between all of them as the story progresses you get to understand it. We're in a high school here, ironically called Opportunity. It's your typical high school but with some unexpected event on a first day of school. It starts as each year with assembly where the principal is giving them her speech, which all of them already know by heart. Only when it ends there is no way out. They are trapped and suddenly there are gunshots. Terror starts in and out of high school.
While some might complain that four different narrators might be too much here it really works out. Mostly as you get to be inside and outside of the school and with that get a full picture. Not only that, this book is real. When I say real I mean shocking as you won't believe that it's happening. There is no happy moments and love conquers all here. It's really straightforward and heartbreaking.
I'm not sure that many will find this book appealing as it might even be controversial. Still I believe it's something that we all need to read. It's a great wake up call and it makes you think of everything that's happening around you, which is its greatest strength.
Rating: 5 stars.
Until the next time,
*NOTE: Copy of this book was kindly provided by the publisher via NetGalley. Thank you!