Hello everyone! As you have noticed we don't post that much these days. We apologize, but we're both really busy at the moment.
Anyhow, I couldn't pass this cover reveal. It's for The Malediction Trilogy, one of my favorite series! Sadly, all good things come to an end so we've reached the cover reveal for the last book in the series -

Warrior Witch

!
Without further ado, here it is...
Book summary:
(spoilers if you haven't read the previous books in this series!!)
Sometimes, one must become the unimaginable


The witch is dead, the curse is broken, and the trolls are free of their mountain prison. Cécile and Tristan have accomplished all it was foretold they would, but their greatest challenge remains: defeating the evil they have unleashed. Because the trolls are not the only creatures now free to walk the world.
Enclosed within the safety of Trianon's walls, Cécile and Tristan scramble for a way to protect the people of the Isle and liberate the trolls from their tyrant king. But Cécile and Tristan both have debts, and they will be forced to pay them at a cost far greater than they had ever imagined.
It's pretty!! Right? I can say it's my favorite in the series. Here is what Danielle said about it
"I'm very excited to share the cover of Warrior Witch with all you lovely readers! I've been exceptional lucky to have wonderful covers for all my books, but I think this one is my favorite. Not only is it beautiful, it perfectly captures the spirit of the novel. Thanks so much to the team at Angry Robot and designer Steve Stone for doing such an amazing job!"
Other books in series
Just to remind you of other books in this series, you should check them out (hint. hint)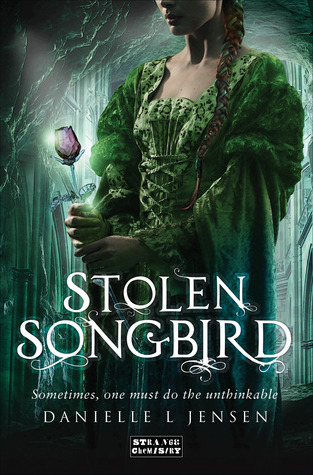 For five centuries, a witch's curse has bound the trolls to their city beneath the mountain. When Cécile de Troyes is kidnapped and taken beneath the mountain, she realises that the trolls are relying on her to break the curse.




Cécile has only one thing on her mind: escape. But the trolls are clever, fast, and inhumanly strong. She will have to bide her time…




But the more time she spends with the trolls, the more she understands their plight. There is a rebellion brewing. And she just might be the one the trolls were looking for...
Buy the book at
Amazon
/
Barnes & Noble
/
The Book Depository
Sometimes, one must accomplish the impossible.




Beneath the mountain, the king's reign of tyranny is absolute; the one troll with the capacity to challenge him is imprisoned for treason. Cécile has escaped the darkness of Trollus, but she learns all too quickly that she is not beyond the reach of the king's power. Or his manipulation.




Recovered from her injuries, she now lives with her mother in Trianon and graces the opera stage every night. But by day she searches for the witch who has eluded the trolls for five hundred years. Whether she succeeds or fails, the costs to those she cares about will be high.




To find Anushka, she must delve into magic that is both dark and deadly. But the witch is a clever creature. And Cécile might not just be the hunter. She might also be the hunted…
Giveaway
Enter Giveaway
Until the next time,