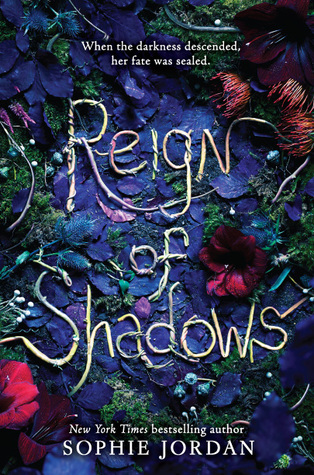 Buy the book at
Amazon / Barnes & Noble / The Book Depository
Author's
Website / Facebook / Twitter
Book summary:
Seventeen years ago, an eclipse cloaked the kingdom of Relhok in perpetual darkness. In the chaos, an evil chancellor murdered the king and queen and seized their throne. Luna, Relhok's lost princess, has been hiding in a tower ever since. Luna's survival depends on the world believing she is dead.




But that doesn't stop Luna from wanting more. When she meets Fowler, a mysterious archer braving the woods outside her tower, Luna is drawn to him despite the risk. When the tower is attacked, Luna and Fowler escape together. But this world of darkness is more treacherous than Luna ever realized.




With every threat stacked against them, Luna and Fowler find solace in each other. But with secrets still unspoken between them, falling in love might be their most dangerous journey yet.




With lush writing and a star–crossed romance, Reign of Shadows is Sophie Jordan at her best.
I might have promised on my Goodreads that I'll complain about the unrealistic things in this fantasy book and I'm actually thinking about that. So beware as I'm not always as logical as I might sound.
Sophie Jordan and I go a way back, when she blew me away with her debut in YA lit I believe, Firelight. Sadly everything went downhill in that series and our relationship afterwards. Still when I saw
Reign of Shadows
on Edelweiss I couldn't help myself. It sounded so good, a ruined kingdom, new magical world and what sounds like a good kickass main character and not to mention a possible new book boyfriend. It had some of that, but not enough.
Reign of Shadows
starts in a tower which is isolated in the woods and rarely anybody knows about it. It's occupied only by a hunter, old maid and a girl with a very long hair *hint? hint* Yes, it's kind of, sort of a retelling. Our Rapunzel is Luna, a girl who has been living in isolation. The chaos has destroyed not only her kingdom but also the whole world. They only get a couple of hours of light, and the rest of the day they are cloaked in darkness, where many dangerous creatures hide. She's been a good girl and obeyed all the rules until one day she decided to break some. Of course she meets Fowler (of Flower as I suck at properly reading names) and falls head over heals in love.
It all went downhill from there, there was attack and they must run. It also means spending more time together and well you know how that ends. Now don't get me wrong, the romance here was quite nice. Yes predictable, but still slow building and sweet. But there is one issue, big issue. Luna actually has, I'm not really sure what's the proper term to use here but I'll say impairment. Still she kicks ass better than I would with four hands and 20 years of training with ninjas themselves. Fine, she is determined, but for the heaven's sake this is as realistic as me winning the lottery. Even there the odds are 1 in 14 million (totally googled that).
You can assume that it annoyed me more than it should, but I'm a moody reader so it either doesn't bother me or pisses the hell out of me. Not to forget, this is not a standalone. It'll have a sequel for sure, so don't get your hopes up.
Rating: 2 stars.
Until the next time,
*NOTE: Copy of this book was kindly provided by the publisher, Harper Teen, via Edelweiss. Thank you!