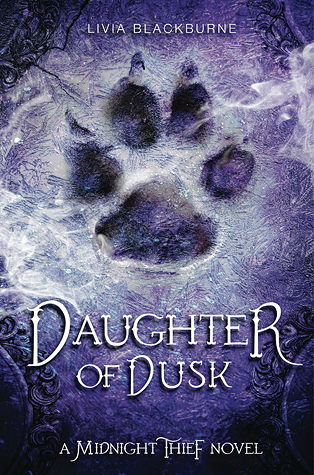 Buy the book at
Author's
Book summary:
After learning the truth about her bloodlines, Kyra can't help but feel like a monster.
Though she's formed a tentative alliance with the Palace, Kyra must keep her identity a secret or risk being hunted like the rest of her Demon Rider kin. Tristam and the imprisoned assassin James are among the few who know about her heritage, but when Tristam reveals a heartbreaking secret of his own, Kyra's not sure she can trust him. And with James's fate in the hands of the palace, Kyra fears that he will give her away to save himself.
As tensions rise within Forge's Council, and vicious Demon Rider attacks continue in surrounding villages, Kyra knows she must do something to save her city. But she walks a dangerous line between opposing armies: will she be able to use her link to the Demon Riders for good, or will her Makvani blood prove to be deadly?
In this spellbinding sequel to Midnight Thief, Kyra and Tristam face their biggest battle yet as they grapple with changing allegiances, shocking deceit, and vengeful opponents.
When
Midnight Thief
appeared two years ago I was blown away by it. The whole idea of the story was so good and with addition of
Poison Dance
(a prequel) this story promised me a really good ride. I did get that, and I'm happy to say that
Daughter of Dusk
is pushing it in the right way.
Even though it's been two years since I've read
Midnight Thief
it didn't take me long to get back into this story.
Daughter of Dusk
continues where the previous one left off. We're back with Kyra and her development. Not to spoil things for people who haven't read the first book, there were some unexpected (if you ask me) twists at the end of it and here we get to discover a new side of this world. A new side of Kyra, but also other characters here. It adds to already complex world building which was what meed me fall in love with the first book. Now with Demon Rider kin who as it turns out plays greater role than expected things are about to go down. For real!
I wasn't surprised that I got back into the story so quick as Kyra is a character you'll easily love. She is all you ever wanted to be: smart, capable and with all that really human, meaning with some flaws that make her even more likeable. And with Tristam who let's face it is a knight in shining armor it wasn't hard to cheer for them. Not to forget James, who for me is one of those amazing villains or so it seemed.
Even though, it seemed like this would be a great series sadly it ended to soon. I don't really know why this turned out to be a duology as in my opinion there is so much to be said about this. I wish there was more to it. But who knows, maybe someday.
Rating: 4 stars.
Until the next time,
*NOTE: Copy of this book was kindly provided for review by the publisher, Disney.