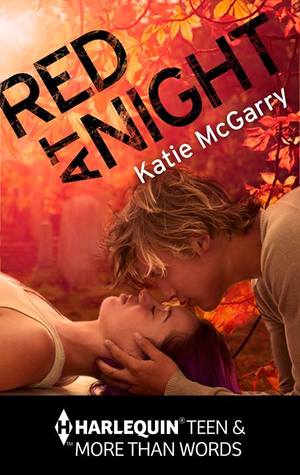 Free read:
Author's:
"In Red at Night, Stella and Jonah are total opposites. She's the girl with purple hair from the wrong part of town. He's a high school senior who hangs with the cool crowd. Until a car accident leaves him haunted by guilt, and Jonah starts spending time at Stella's favorite refuge…the local cemetery.

Stella knows she should keep her distance—after all, she spent her girlhood being bullied by Jonah's friends. Once he's sorted out his tangled emotions, Jonah won't have time for her anymore. Too bad she's already fallen for him."
Katie McGarry is someone whose books are on my auto-buy list. In times when contemporary is not really my think there are always her stories that make me love the genre all over again. Her stories awake all those feelings in me and this one is not an exception.
I always say that writing a short-story is much harder in my opinion. Simply you have less space to express everything and still you must put all you need in it.
Red at Night
is a story that has all that. It's emotional and beautifully written. You can feel for Stella and cheer for her and at the same time Jonah is someone who will find his way to your heart. You'll be happy to let him, though.
Something really special to me was that despite the fact that this story was rather short still it wasn't insta-love one. I was really pleased to see that and it made me like the story even more. Also in this short story you get to see not only a love story but a story about tough growing up and fighting when you are still too young for that.
All in all, this story was short and sweet. Something you'll enjoy reading this summer. Especially when you find
it free on Amazon
.
Happy reading,