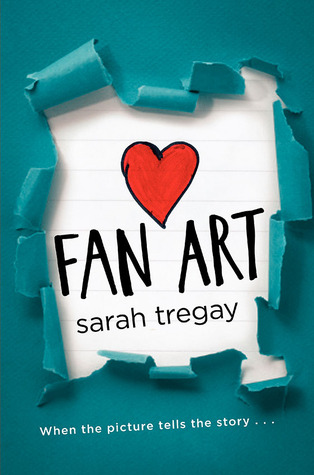 Buy the book:
Author's:
Publication date: June 17th, 2014
My rating: 5 stars
Book summary:
"Senior year is almost over, and Jamie Peterson has a big problem. Not college—that's all set. Not prom—he'll find a date somehow. No, it's the worst problem of all: he's fallen for his best friend.

As much as Jamie tries to keep it under wraps, everyone seems to know where his affections lie, and the giggling girls in art class are determined to help Jamie get together with Mason. But Jamie isn't sure if that's what he wants—because as much as Jamie would like to come clean to Mason, what if the truth ruins everything? What if there are no more road trips, taco dinners, or movie nights? Does he dare risk a childhood friendship for romance?

This book is about what happens when a picture reveals what we can't say, when art is truer than life, and how falling in love is easy, except when it's not. Fan Art explores the joys and pains of friendship, of pressing boundaries, and how facing our worst fears can sometimes lead us to what we want most."
It's so fluffy, I'm gonna die.
Little Agnes from
Despicable Me
told the best words ever and they can be used to describe the cuteness of new book by Sarah Tregay. I think I melted several times while I had been reading Fan Art.
Why is this book awesome?
Because of the topic. Being in high school is tough as it is, but being a gay in high school can be even worse, especially when your classmates don't approve (to say it nicely) who and what you are.
Because it is sweet love story and not another social study packed in YA book trying to sound oh-so-serious. LGBT teens need something cute and fluffy and romantic too. They know all about how hard it is to be them in everyday life. The want to read romantic and fairy taleish love story too. The one that will make them believe that there is nothing wrong with being different and that he or she can get a guy or a girl too.
Family interaction. Jamie has the best parents ever.
It made me laugh and cry happy tears.
Because this is how the real life should look like. How LGBT kids should be treated. How parents should act. How your friends should react when they see you kissing your best friend.
Who should read this book?
Absolutely everyone!
Happy reading,
***Copy of this book was provided by publisher, Katherine Tegen Books, via Edelweiss in exchange for an honest review.***