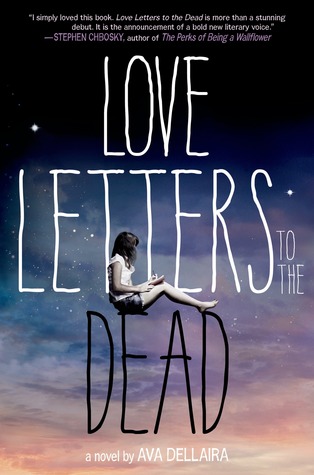 Buy the book at
Author's
Book summary:
It begins as an assignment for English class: Write a letter to a dead person. Laurel chooses Kurt Cobain because her sister, May, loved him. And he died young, just like May did. Soon, Laurel has a notebook full of letters to people like Janis Joplin, Amy Winehouse, Amelia Earhart, Heath Ledger, and more; though she never gives a single one of them to her teacher. She writes about starting high school, navigating new friendships, falling in love for the first time, learning to live with her splintering family. And, finally, about the abuse she suffered while May was supposed to be looking out for her. Only then, once Laurel has written down the truth about what happened to herself, can she truly begin to accept what happened to May. And only when Laurel has begun to see her sister as the person she was; lovely and amazing and deeply flawed; can she begin to discover her own path.
This is one of those books that I've expected so much from. Not only the pretty cover and the fact I love epistolary novels, but Glass has got to read the ARC of it and she loved it. I couldn't wait. Now I think that I put my expectations too high, as this book was good but didn't blow me away.
So as I have said, this is an epistolary novel, meaning it's written in forms of letter. Our main character here Laurel is a teenage girl, who has been going through some hard period. She has lost her sister, person who has been her support and best friend. Now Laurel doesn't know how to deal with everything and has to find a way to express her pain. The solution comes in letters, actually her assignment to write a letter to dead person. So the story goes and we find many layers to Laurel that might not be visible at first.
Despite the fact that little piece of me died every time Laurel didn't know who some of the greatest rock or movie stars were, it sadly portrays the knowledge of young people about Rock and Roll. The biggest problem with reviewing this book is just the fact that I have no idea how to express my feelings. This book was great in terms that is deals with some issues in a different way. I really enjoyed letters and the way Laurel wrote them. It was really poetic and beautiful.
However, Laurel and I had some issues. I liked her most of the time, but from time to time she behaved like brat and then like an adult. I do understand why it was like that. Just the fact that she is in 9th grade means that she is in transition from one period of life to another. But at times it really bothered me. Luckily it wasn't often.
Rating: 4 stars.
Until the next time,